Service Times and Location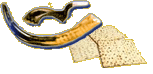 Affiliated Churches
Daily Bible Study Topic
Holy Day Calendar
NEW TESTAMENT PASSOVER
March 29, 2018 (Observed at sundown)
---
FEAST OF UNLEAVENED BREAD
March 31 - April 6, 2018
---
PENTECOST
May 20, 2018
---
FEAST OF TRUMPETS
September 10, 2018
---
DAY OF ATONEMENT
September 19, 2018
---
FEAST OF TABERNACLES
September 24 - September 30, 2018
---
LAST GREAT DAY
October 1, 2018
Holy days are observed beginning sundown the previous evening and end at sundown on the days listed. Passover is observed at sundown on the day listed.

Download Holy Day Calendar from the main CGI website.
All holy day serivces, except for the Feast of Tabernacles will be held at the Casey Community Center unless posted otherwise.